Field Work

Logging Columbia River Basalt lavas with Richy Brown

I am primarily a field geologist and my work uses observations made on deposits of eruptions and interprets the information in terms of eruptive and magma-supply mechanisms. My current research interests include dynamics and products of flood-basalt and explosive super-eruptions, and many kinds of smaller explosive and lava producing eruptions. A recent addition is geologic aspects of disposal of high-level nuclear waste.


---

Lectures

Invited guest lecturer, UC Santa Cruz

I lecture widely on several topics, including the impact of large-scale volcanic eruptions on the environment and our society, relevant to both our present world and past Earth history. With 40 years of experience in the study of volcanoes and volcanism, I have published numerous papers and articles in specialist, and more general, scientific journals on many aspects of volcanic activity.


---
---
2013 Invited Speaker, Volcanism, Impacts, and Mass Extinctions Conference, London, UK; Invited Speaker, Aso Caldera Workshop, Aso, Japan
2012 Invited Speaker, IAVCEI Collapse Calderas Commission workshop, Bolsena, Italy; Invited Speaker, AGU Chapman Conference, Iceland; Invited Speaker, Univ of So. Florida; Washington St Univ; UC Santa Cruz; Workshop on Volcanic Ash, Lehigh Univ PA; Volcanism in SW USA Conf Flagstaff; IAVCEI Caldera Workshop, Bolsena IT; Chapman Conf AGU Iceland; ICG Australia; AGU Fall Meeting SF, CA; (and several other lectures)
2011 Invited Union keynote, IUGG General Assembly, Melbourne, Australia.



2010 Invited speaker in session on super-eruptions, Fall AGU Meeting, San Francisco; Invited lecturer, University of Bayreuth, Germany; Invited speaker in special session in honor of Pete Lipman, GSA Annual Meeting, Denver, Colorado.
2009 Invited keynote at GSA Annual Meeting Special Session on Supervolcanoes.
2008 Invited speaker at session on Deccan volcanism and mass extinctions, Fall AGU meeting, San Francisco; Distinguished Lecturer, Trinity University, San Antonio, Texas; Invited keynote at Symposium on Volcanism, Foz do Iguaçu, Brazil.

---

AGU Chapman Conference Field Trip 2012, Reykjanes Peninsula (Mid-Atlantic Ridge), Iceland. (S. Self in hat).
---
Professional Experience

BSC (Hons), Leeds University UK, 1970
PhD, Imperial College, London, UK, 1973
Post Doctoral Fellow, Victoria University, Wellington, NZ, 1974-1976

NASA Research Fellow

Dartmouth College, NH, 1977-1979

Goddard Inst. Space Studies, 1977-1979

Assistant Professor, Arizona State University, 1979-1983
Associate Prof/Professor, Univ Texas at Arlington, 1983-1990



Professor, University of Hawaii at Manoa, Honolulu, HI, 1990-2001
Professor, The Open University, Milton Keynes, UK; Chair in Volcanology, 2001-2008; currently Visiting Research Professor, 2008 - present
Senior Volcanologist; US-Nuclear Regulatory Commission, 2008-Present
Affiliate Faculty, Washington State University, Pullman, WA, 2011 - Present
Adjunct Professor, University of California at Berkeley, 2012 - Present


---
Honors and Affiliations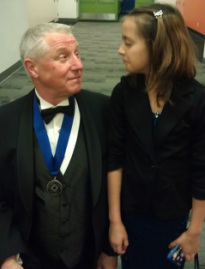 With step-daughter Ella, age 9, at AGU Honors Celebration, 2012
---